October 4, 2016 2:27 am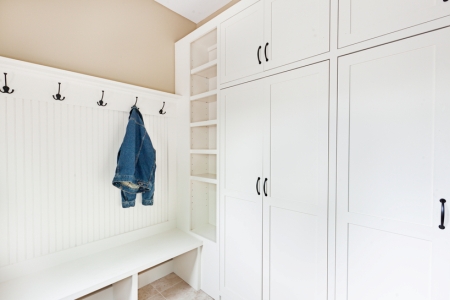 A mud room and an office come in at the top of homeowners' wish lists—and a gym and a movie theater have dropped off it, according to the recently released American Institute of Architects' (AIA) Home Design Trends Survey.
"Heavy investment in outdoor living spaces, mud rooms and home offices indicate that consumers are placing a premium on practicality and functionality," said Kermit Baker, AIA chief economist, in a statement on the survey. "Things have changed a lot from a decade ago, when home theaters and exercise rooms were some of the most popular 'special function' rooms in homes."
In addition to a mud room, an office and outdoor living space, homeowners are remodeling for a designated guest room (e.g., an Au Pair or in-law suite) and a sun room or three-season porch, according to the survey.
Remodeling for accessibility is also common, though somewhat less so as more new homes are being designed to accommodate "aging in place." Popular accessibility projects, the survey found, include adding a first-floor master bedroom, an elevator and handles.
"Although accessibility features remain an important issue to homeowners, demand for some of these features has leveled off in the custom residential arena," Baker said. "As more homes become equipped to handle an aging population of homeowners, less custom work needs to be done to address specific accessibility issues."
Automated features are in-demand, as well, some with the dual benefit of convenience and energy efficiency. Up-and-coming features that homeowners have begun to request, the survey found, include an air purification system, a backup power generator, an electrical car docking station, solar panels and "super" insulation.
Source: American Institute of Architects (AIA)
Published with permission from RISMedia.