March 17, 2016 4:30 am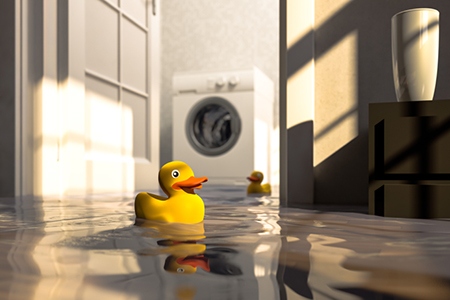 With rainfall levels breaking records across the country, many homeowners have had to deal with costly property damage as a result of excess water. If your home has been flooded (or may be flood-prone in the future), use these tips, courtesy of the experts at ServiceMaster Restore®, to mitigate the scope of damage.
1. Use fans to circulate the air and assist drying. If the outside temperature is above 80 degrees, use dehumidifiers. If damage occurs during a cool season, leave the heat on; if in summer, use an air conditioner if possible.
2. Turn the main switches in the circuit breaker box to the off position. Do not go into rooms with standing water if the electricity is still on. Do not use an ordinary household vacuum to remove water, and do not use electrical appliances on wet floors.
3. Remove as much water as possible by mopping and blotting.
4. Wipe furniture dry. Prop up wet furniture cushions for even drying, and place small wood blocks or aluminum foil under furniture legs.
5. Remove wet area rugs or other floor coverings and open furniture drawers, closet doors and luggage to assist with drying. Do not lift tacked-down carpet without professional help. Lifting the carpet incorrectly could promote shrinkage. Lift draperies off carpet, loop through a coat hanger, and place the hanger on drapery rods.
6. Remove wet fabrics and dry them as soon as possible, preferably within 24 to 48 hours to prevent mold. Hang furs and leather goods to dry separately at room temperature.
7. Move photographs, paintings and art objects to a safe, dry location. Remove damp books from shelves and spread out to dry.
8. Throw away any wet items you don't consider valuable. The replacement cost may be less than restoration.
9. Never mix bleach with other cleaning products. The combination of chemicals may create toxic fumes.
10. Avoid direct contact with affected mold areas as much as possible. Wear protective clothing while sifting through items that were beneath the flood waters or where mold has begun to spread.
Source: ServiceMaster Restore®
Published with permission from RISMedia.