May 5, 2016 12:45 am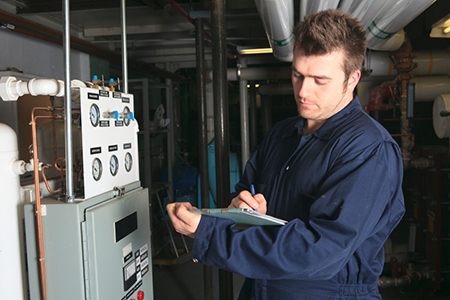 So you've gone to the expense of finally replacing that old Buck Rogers-looking furnace with a high-tech, high-efficiency model that also coincidentally resembles a futuristic machine—albeit much smaller.
To be sure your new furnace is humming along as efficiently as possible, we turned to Don Ames of Home Energy Pros, a social network and community dedicated to home energy professionals.
Ames says to maximize efficiency, check these four system items that affect how a new furnace will perform:
• Check for heating duct leakage and seal if needed
• Clean the air conditioner heat exchanger
• Make adjustments to the filter and the filter cabinet
• Add passages for return air that will balance the room pressure
Before installing a new furnace (and allowing efficiently heated air to escape unused), Ames says the duct system is the first and foremost thing that should be checked for air leakage, and sealed as needed.
If your utility, gas or electric provider has a duct sealing program, sign up—they may test your heating ducts for free. Otherwise, Ames says just seal them yourself using generous amounts of duct mastic.
First things first: do you have metal or insulated, flexible vinyl ducts? If you have insulated, flexible vinyl ducts, Ames says go ahead and check connections at the metal plenum or the metal register boots. If necessary, seal all joints in the metal plenum and seal the boots to the floor.
If you have metal ducts, whether round or rectangular, Ames says seal all joints and connections in both the supply and return air ducts with mastic using a gloved hand and applying it nickel-thick.
Ames reminds homeowners who want to squeeze every penny of savings from a high-efficiency heating system that sealing heating ducts is one of the most cost-effective and successful retrofits you can do to your home.
Published with permission from RISMedia.