May 10, 2016 12:48 am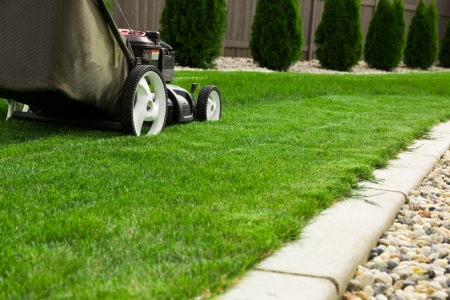 Ah, yard work. We take pride in our manicured landscapes, but begrudge the work it takes to get them.
"Landscaping is our business and our passion, but we still want to take care of our yard work in a way that makes life easier, so we can spend time doing the other things we enjoy," explains Chris Lambton, star of HGTV's "Going Yard."
Lambton and his wife, Peyton, who also hosts the show, recommend starting your lawn care routine early in the day. This ensures you'll be working in cooler temperatures, and leaves time later in the day for other activities.
Worried about waking the neighbors? Don't be, say the Lambtons. The cordless outdoor power tools of today are virtually noise-less compared to gas-powered equipment.
Yard work doesn't have to be strenuous, either, the Lambtons add. Battery-powered mowers are fume-free, easy to maneuver and lightweight. As with gas-powered mowers, the blade should be adjusted to the correct height for your lawn.
"The height of your mower blade is determined by a combination of factors, including temperature, season and type of grass," Chris says.
A good rule of thumb: never cut your grass more than one-third of the total height. Any more will leave your lawn susceptible to burnout and weeds.
What about edging? The Lambtons endorse it. They advise edging along driveways, garden areas, patios and sidewalks, either with a trimmer or hardscaping.
If using a string trimmer, walk in the same direction as the machine spins. If it spins counter-clockwise, walk left to right.
"Edging is an important landscape design element that transitions one space to another," says Chris. "When done with a cordless string trimmer, it's a small yard maintenance step that adds huge curb appeal."
Yard work should also include maintenance of social gathering spaces, adds Peyton. Sprucing up an entertainment area is as simple as tending to the bushes and shrubs surrounding the space.
"Shrubs can grow into your patio, invading your dining and social areas," Peyton says. "A mid-powered, cordless hedge trimmer is the perfect tool for quick clean-up of the perimeter of a designated party area."
Clean up any debris once all of the yard work is done, the Lambtons say. This allows for a "clean sweep" that takes less time than cleanup after each chore.
"Remember to look beyond the trimmings that are visible on the ground," Peyton says. "Use an axial blower behind and on top of the shrubs and hedges you've just trimmed to clear the area of the mess."
The Lambtons' litany of lawn care to-dos are put into practice both at home and on the show. Time-saver? Check.
Source: Greenworks™
Published with permission from RISMedia.